Construction Certificate Applications & Approvals
At SureScope Building Certifiers our team of Grade 1 Accredited Consultants offer professional construction certification solutions in Newcastle and across NSW.
Once you've received consent from the council on your development application, the next phase is obtaining a construction certificate so construction can get underway.
Construction Certificate Versus CDC
A complying development certificate (CDC) is an alternative to a development application and is considered a fast-tracked approval process for straightforward developments.
A construction certificate, meanwhile, confirms that a building plan is consistent with development consent, complies with relevant conditions for development consent and complies with the Building Code of Australia (BCA).
Whether you need a construction certificate or a complying development certificate, they must each be obtained prior to commencement of construction. If you don't have either a construction certificate or a complying certificate your building work will be deemed unauthorised. This will prevent you from obtaining an occupation certificate upon completion of the construction work.
If you're unsure whether your project qualifies for a CDC, check out our complying development certificate services.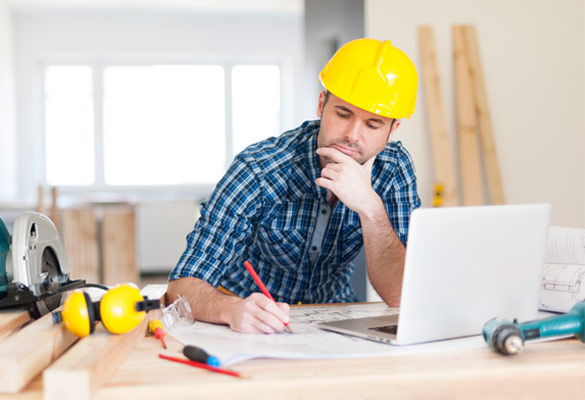 The Construction Certificate Application Process
Accredited certifiers and your local council can provide both complying certificates and construction certificates. At SureScope Building Certifiers, our expert team of construction consultants provide construction certification solutions including complying and construction certificates designed to fast track your application and get you council approval sooner.
We will ensure your construction plans and development specifications are in line with council requirements. Our professional team will check every detail to ensure your application is approved quickly, so you can get your project underway sooner.
Avoid costly delays by having a professional building certifier cast their expert eye over your construction plans. They'll identify potential issues and make recommendations for improvements to give you your best chance of approval.
The Best Construction Certifiers in Newcastle
At SureScope, we've helped NSW businesses from across the construction sector obtain construction certificates, and we can help you, too. Our expert team specialises in construction certificates and we can help you put together a water-tight application that will get through the council quickly and get your project underway sooner.
Our building certifiers in Newcastle love helping fellow Newy businesses and people all across NSW to get fast, easy approval on their construction certifications. We know you've got plenty to occupy your time and dealing with council can be one of those tedious time-draining processes that just drags on and on. The solution? Leave it to us! We'll make sure every "i" is dotted and every last "t" is crossed in your application so you'll waste no time in getting your construction certification approved.
We're ready to help you make your construction project smooth, streamlined and easy with hassle-free construction certifications from experienced, local experts.
Ready to discuss construction certificates with a qualified certifier? Get in touch!
Talk To Our Friendly SureScope Team About Our Fast, Convenient Construction Certifications Today